Svenja A. Bach, Erratischer Monolog, 2020, installation view, oil, pigment and coal on canvas, artist made frame, 200 x 150 cm, copyright and courtesy of the artist and L187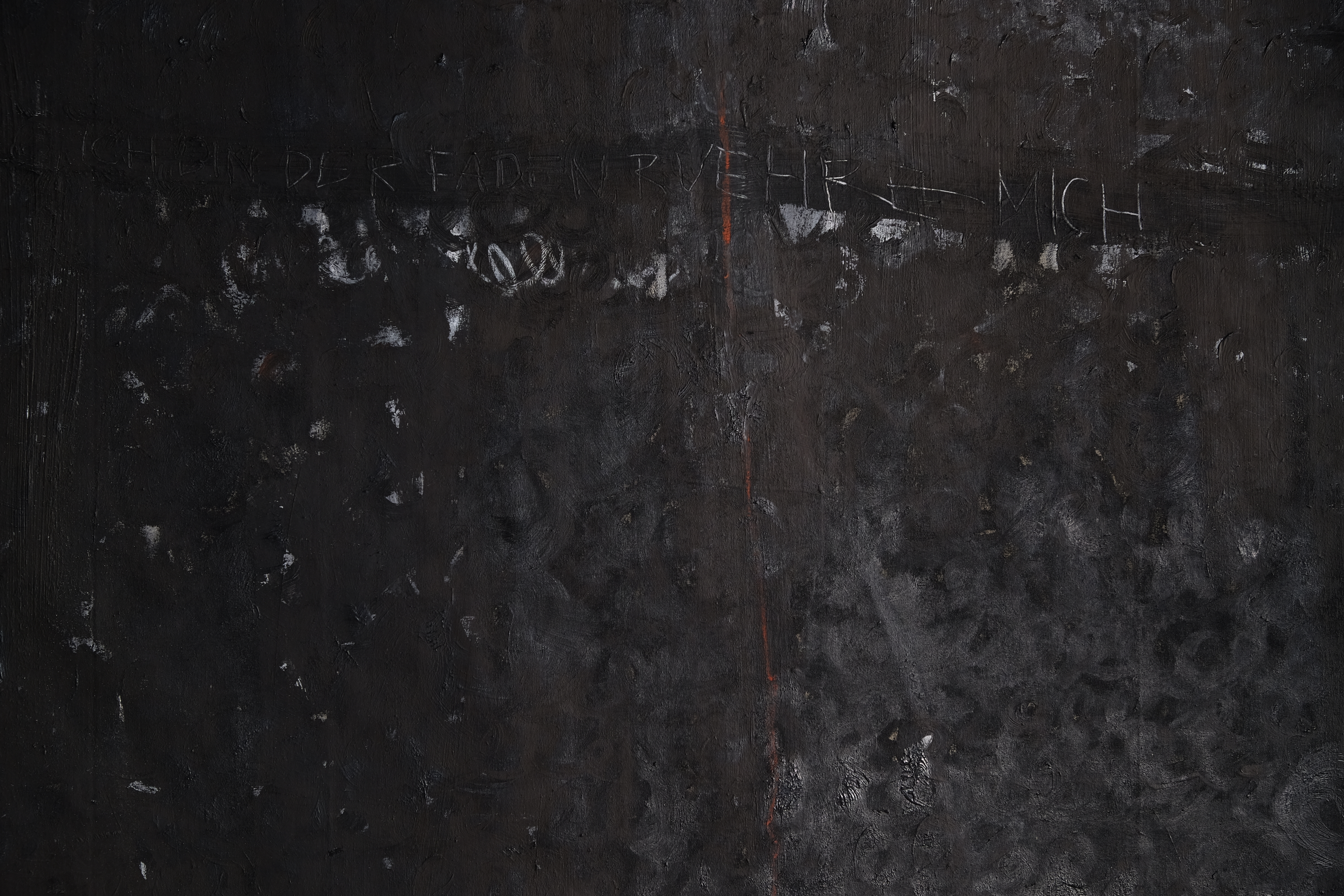 Svenja A. Bach, Erratischer Monolog, 2020, detail, oil, pigment and coal on canvas, artist made frame, 200 x 150 cm, copyright and courtesy of the artist and L187
Svenja A. Bach, Doppeltor II, 2020, installation view, printed paper on birch, 125 x 83 cm, copyright and courtesy of the artist and L187
Svenja A. Bach, Palermo oder Höchst, installation view, photo: Anton Sahler, copyright and courtesy of the artist and L187
Svenja A. Bach, Die unterste Nacht, 2020, installation view, oil, chalk and coal on canvas, artist made frame, 200 x 150 cm, photo: Anton Sahler, copyright and courtesy of the artist and L187
Svenja A. Bach, Rigorosum I, 2020, installation view, ink, paper, 84,1 x 59,4 cm, photo: Anton Sahler, copyright and courtesy of the artist and L187
Svenja A. Bach, Rigorosum I, 2020, installation view, ink, paper, 84,1 x 59,4 cm, photo: Anton Sahler, copyright and courtesy of the artist and L187
Svenja A. Bach, Rigorosum I, 2020, detail, ink, paper, 84,1 x 59,4 cm, copyright and courtesy of the artist and L187
Svenja A. Bach, Palermo oder Höchst, installation view, photo: Anton Sahler, copyright and courtesy of the artist and L187
Svenja A. Bach, Doppeltor I, 2020, printed paper on birch, 125 x 83 cm, photo: Anton Sahler, copyright and courtesy of the artist and L187
Svenja A. Bach, Doppeltor III, 2020, installation view, printed paper on birch, 125 x 83 cm, photo: Anton Sahler, copyright and courtesy of the artist and L187
Svenja A. Bach, Rigorosum II, 2020, ink, paper, 84,1 x 59,4 cm, photo: Anton Sahler, copyright and courtesy of the artist and L187
Svenja A. Bach, Palermo oder Höchst, 2020, installation view, ink, paper, flowers, dimensions variable, photo: Anton Sahler, copyright and courtesy of the artist and L187
Svenja A. Bach, Palermo oder Höchst, 2020, detail, ink, paper, flowers, dimensions variable, photo: Anton Sahler, copyright and courtesy of the artist and L187
Svenja A. Bach, Palermo oder Höchst, 2020, detail, ink, paper, flowers, dimensions variable, photo: Anton Sahler, copyright and courtesy of the artist and L187
Svenja A. Bach, Palermo oder Höchst, 2020, installation view, ink, paper, flowers, dimensions variable, photo: Anton Sahler, copyright and courtesy of the artist and L187

erdig und ledrig steht die Zeit am Zenit
wovon ich träume ist nicht in deinem Tag enthalten
sag, wovon träumt man, wenn man aus Stein ist
ganz weiß und auch jetzt erstarrst du
ich schaue auf die Mauer, die trennt mich vom Fremden
Beton kühlt dich und mich in der Nacht
jetzt stößt man Rauch an dir aus
von innen sieht man es nicht
schreib auf, was fühlt man, wenn man unsterblich ist

(an die Skulptur M.)

Svenja Anna Bach (*1995, Leipzig, Germany) lives and works in Frankfurt and Offenbach am Main. Since 2019 she studies at the HfG Offenbach in the class of Prof. Gunter Reski.

Opening: 17.07.2020, 7 p.m.
Film screening: 24.07.2020, 10 p.m. (Marie Losier,
The Ballad of Genesis and Lady Jaye
, 2011, 65 min.)
Closing: 31.07.2020, 7 p.m.